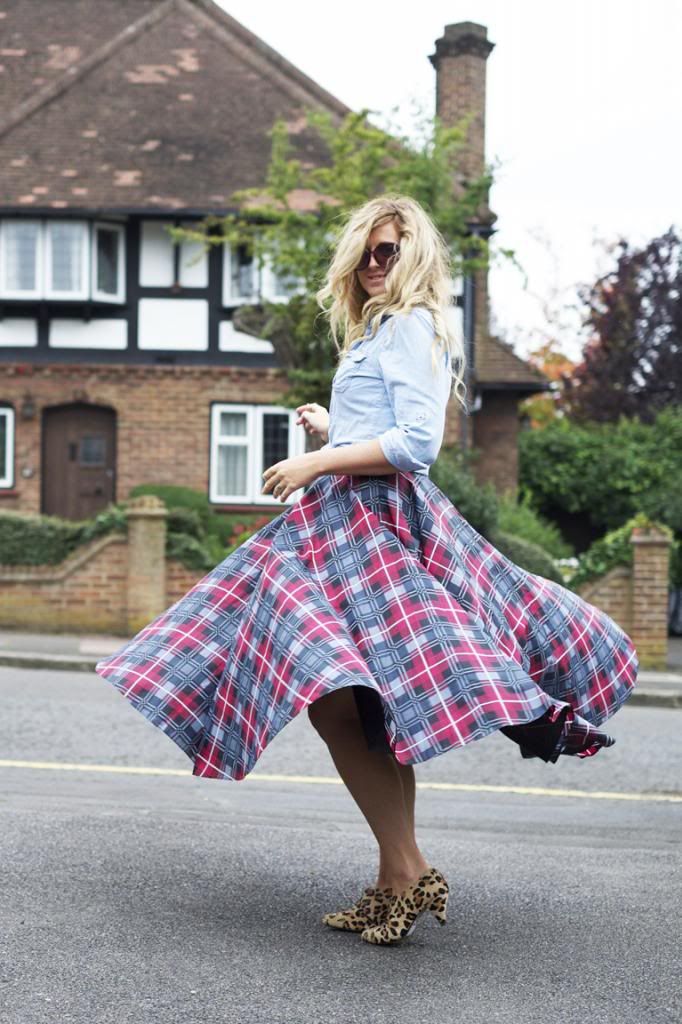 I Am Wearing :
Leather Biker - H&M
Denim Shirt - Primark
Tartan Swing Skirt - Vivienne Westwood via Tags-On
Leopard Print Booties - Topshop
Leopard Print Clutch - H&M
Necklace - Primark
Watch - Michael Kors
Last week I was invited to check out the Tags-On pop-up shop in Baker Street, where I bought this delicious Vivienne Westwood skirt - it was LOVE at first sight!
Tags-On is a "

designer re-sale site with a difference" - the difference being that when professional de-clutterer Vicky Silverthorn set up the business her passion for her charity work was at the forefront of her business. Not only does the site sell pre-loved celebrity clothing with 75% of the profit going to the celebrities charity of choice, but 2% of ALL total sales goes to charity too! This was something that immediately caught my attention, as it something you don't see very often in business, and if I can buy and sell clothes AND give to charity at the same time that is fabulous!
Most of their stock comes from stylish women's closets - you know when you buy something and then never quiet find the right occasion to wear it? - well thats the sort of items you will find at Tags-On. It is those items that you never got round to wearing but are still stylish enough for another woman to rock!
I am super happy with my purchase and totally recommend Tags-On as a great place to find AFFORDABLE designer clothing - you all know that the only way I could have a Vivienne in my closet is if it was pre-loved!!
Happy Wednesday Guys
MWAH